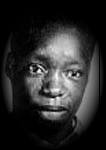 Isaiah Shoels, 18, senior. Only black youth shot. Suffered health problems as a child and had heart surgery twice. Wanted to attend an arts college and become a music executive. Small in stature, but lifted weights and played football and wrestled. Bench-pressed twice his weight.
"He was the nicest person I knew," remembers classmate Justin Norman. "He would always go up to you and say, 'What's up?' even if you didn't know him."
A transfer student from Lakewood High School, he was shot in the head execution-style in the school library, specifically because of his race and athletic interests, witnesses said. His father says he believes that account.
"He was black and he was an athlete," Michael Shoels said. "That's why my son died. Because of the color of his skin and the achievements that he wanted to do for himself. ... That's not a reason to die."